"... To spend more time with family and focus on his daughter's health and recovery," MX founder Ryan Caldwell has relinquished his CEO role, but has become the company's Executive Chair with a special focus on "go-to-market (plans), product development, and long-term business growth."
Some eight months after being promoted to President of MX Technologies from its Chief Revenue Officer position, Shane Evans has joined the company's Board of Directors and been tapped as its Interim CEO.
According to the company news release, Evans replaces Founder, Ryan Caldwell, who has relinquished his CEO position at Lehi, Utah-based MX "... to spend more time with family and focus on his daughter's health and recovery."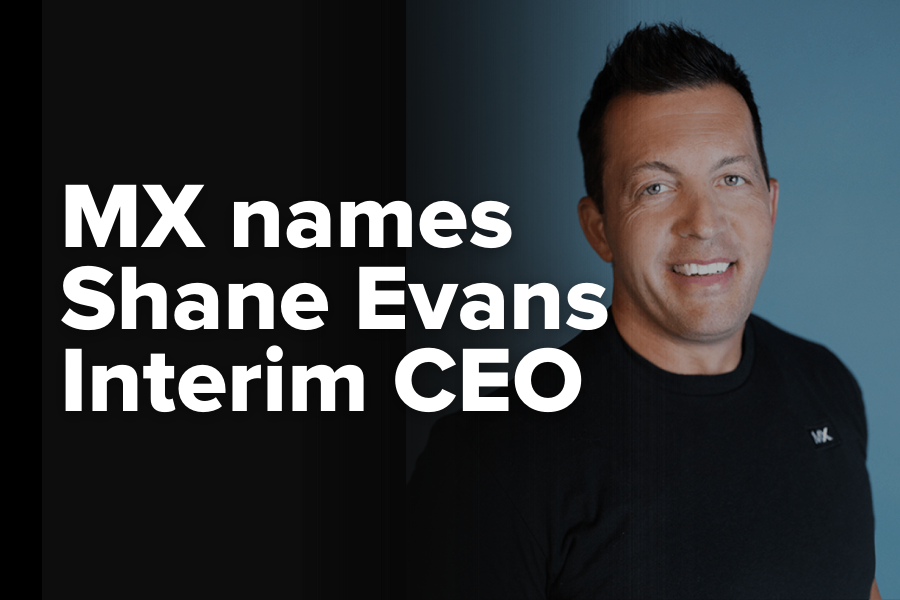 Caldwell, however, has been named as the Executive Chair of the MX Board where he will focus on "go-to-market (plans), product development, and long-term business growth."
---
Transformational Changes at MX in a 12-Month Period.
Nearly a dozen years after the founding of MX, the Software-as-a-Service FinTech finds itself at a bit of a crossroads as the past 12 months have been clearly transformational for the company.
Consider this timeline:
January 2021: MX achieves mythical "Unicorn" status as it raises $300 million in a Series C round of funding, placing its valuation at $1.9 billion;
June 2021: Shane Evans is promoted to MX President from CRO;
November 2021: MX Co-Founder and Chief Technical Officer, Brandon Dewitt, dies at the age of 38 following a years-long battle with cancer; and now
MX Founder and CEO, Ryan Caldwell, steps down as CEO, but is tapped as its Executive Chair, while
MX President, Evans, takes on the additional role as Interim CEO.
Achieving a billion-dollar valuation as a privately held, venture-backed organization is hard. Period.
Add on top of that the amount of significant change outlined above, and that's difficult to imagine, let alone survive, especially within a 12-month window.
And yet all indications are that MX continues to grow and thrive, which is a testament to the strength and resiliency of its people, as well as the value and benefits of its service offerings.
---
Shane Evans – The Right Person at the Right Time for MX
After more than a quarter century under his belt in sales, sales management, and executive management, Evans seems ideally positioned for his expanded roles at MX, that of Board Member and Interim CEO.
According to his LinkedIn Profile, Evans traces his professional career back to a six-year stint with Global Payments, which now generates over $8 billion annual revenue in the finance/FinTech space, interestingly enough. Evans finished his time with Global Payments in 2001 as its National Sales Manager.
Since 2001, Evans has filled a number of sales and executive sales positions with such firms as
AxisPointe (VP of Business Development),
InMoment (VP of Sales),
PROS (VP of Sales, West), and
Qualtrics (Head of Global Partnerships and Channels; VP of Enterprise Sales; and SVP, North America Enterprise Sales).
As touted in last week's MX press release, Evans "... played a critical role in the growth and expansion of (the Qualtrics) global sales team (efforts) that culminated in the company's $8 billion acquisition by SAP, (and that also laid) the groundwork for its $27 billion IPO just two years later."
Evans joined MX from Qualtrics in August 2019 as its Chief Revenue Officer, was promoted to President in June 2021, and then advanced to his latest positions last week.
According to Jon Winkelried, CEO of TPG and a member of MX's board of directors:
"We look forward to continuing to work closely with Ryan Caldwell as Executive Chair and with Shane Evans in his expanded role as President and Interim Chief Executive Officer. Shane has demonstrated an unwavering commitment to the organization, its mission, people, and customers, and we are confident that he brings the right combination of experience and passion to lead MX at this important point along its growth journey."
Of his expanded responsibilities with MX, Evans said:
"I am grateful for the opportunity to help lead MX through our next phase of growth, as we accelerate the business and help organizations unlock the power of financial data."
---
What is MX? And Why are Thousands of Companies Using MX Services?
MX specializes in helping banks, financial institutions and FinTechs build a better "Money eXperience" with its customers.
Or as it describes itself on the MX Website:
MX is a SaaS company that builds data-driven products for banks, credit unions, and FinTech innovators. We work with our partners to create solutions that help their customers understand and manage their finances more easily."
Some 11+ years on those efforts appear to be working as MX-enabled clients have combined customer totals of over 200 million people.
MX currently highlights a total of 11 different services/products on its Website that it offers its clients, namely:
Open Finance API Platform;
Data Connectivity API;
MX Platform API,
Data Aggregation,
Account & Data Verification,
Data Enhancement,
Analytics,
Personalized Marketing,
Personal Financial Management,
Mobile Banking App, and
Financial Feed Insights.
Each of these fall into 1 of 3 categories:
Connectivity,
Data, and
Experience.
Among the most notable of its thousands of clients are such organizations as
Altabank,
Barclays,
M&T Bank,
US Bank, and
WaFd Bank.
just to name a few.
According to recent stories published by CNBC and Barron's, MX is said to be preparing itself for an IPO, or an acquisition by a suitor, for upwards of $5 billion.
Sounds like a fascinating time for Evans to be stepping into his newest roles at MX.