By Jordan Phelps
Qualtrics announced a $1M donation to the Huntsman Cancer Foundation today at the 2016 Qualtrics Insight Summit at the Grand America Hotel in an effort to raise funds for cancer research. The partnership is part of a new campaign titled Five for the Fight which is a global campaign encouraging everyone to donate $5 to cancer research and challenge five others to do the same.
"Cancer has impacted almost everyone in one way or another. When my father got cancer, the Huntsman Cancer Institute saved his life. We determined early on — way before we had any money — that if we were ever successful, Huntsman Cancer Institute would be the group we would support," said Ryan Smith, founder and CEO of Qualtrics. "Making this donation today is just the beginning. We are here to enlist people around the world to raise a hand and give what they can for this important cause."
Smith presented Peter Huntsman, CEO of the Huntsman Cancer Foundation, a $1M check. They were joined onstage by cancer researchers Mario Cappechi, a Nobel Prize winning scientist, and Joshua Schiffman, medical director of the Huntsman Cancer Institute.
Participants in the campaign write on their hand the name of someone who has fought or is fighting cancer and post a photo or video to social media using the hashtag #fiveforthefight. They are also invited to explain why they are joining the campaign and donating to cancer research.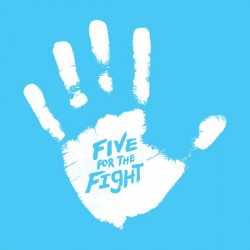 "We're honored to participate in the Five for the Fight campaign. Those $5 donations will add up and will save
many lives," said Jon M. Huntsman, Sr. "As a cancer survivor myself, I have devoted much of my life to raising awareness and funds for cancer research and partners like Qualtrics are the reason the Institute is able to continue its important work."
To get involved with Five for the Fight or to learn more, visit fiveforthefight.com.