(photo credit: Michelle Drewes)

This article was originally published in the Spring 2018 edition of Silicon Slopes Magazine.
Nearly 10 years ago, Ruzwana Bashir prepared to embark on a trip. She circled in on a destination — Istanbul, Turkey — and began searching for fun, local activities. For 20 hours she searched. 20 HOURS. This is incredible planning discipline, I would have given up after 25 minutes, scrapped the whole trip, and laid in bed for a month with a warm towel on my forehead. Bashir did not, instead sifting through the cultural hotspots of Istanbul to find what she desired: experiences.
"I was planning what I hoped would be a really awesome trip," said Bashir. "When it came down to it, what I cared about were the things we were able to do there: what cool activities were available? I found myself researching the best things to do and then calling the businesses to try and arrange these tours. And I thought, this is a really tough thing to do."
Out of this planning process, Bashir concluded two things: one, experiences form the beating heart of every trip; and two, there wasn't a great service for curating those experiences and presenting them to prospective vacationers in a timely manner. She filed these tidbits away for later and following her Istanbul vacation, enrolled in Harvard Business School.
It was during this time that Bashir built the foundation of her professional career. She gained a sharper understanding of finance and venture capital through her employment with Goldman Sachs and The Blackstone Group. She gained a love for startup life through her employment with two early-stage businesses, Gilt Groupe and Art.sy. After graduating from Harvard Business School, she arrived at a familiar post-graduation crossroad. What next?
"I always knew that I wanted to build my own business one day," said Bashir. "Having worked at an environment like Blackstone, I realized I wanted to create and build value. From the private equity side, it was intellectually challenging and I learned a lot, but I didn't feel like I was building something — it was more like I was moving things around. When I began working at startups, I was really excited to help build software or a website that had the ability to access millions of people."
Silicon Valley
Ruzwana Bashir came to Silicon Valley to create a startup.
After moving to San Francisco, Bashir was introduced to Oskar Bruening, a MIT grad with technical experience in the enterprise software space (at VMware, Symantec, Vontu, and Pipewise). They began working on a business idea based off Bashir's Istanbul trip — a software platform that curates activities and experiences across the globe, and minimizes the time needed to arrange these affairs.
In 2012, Bashir and Bruening started Peek.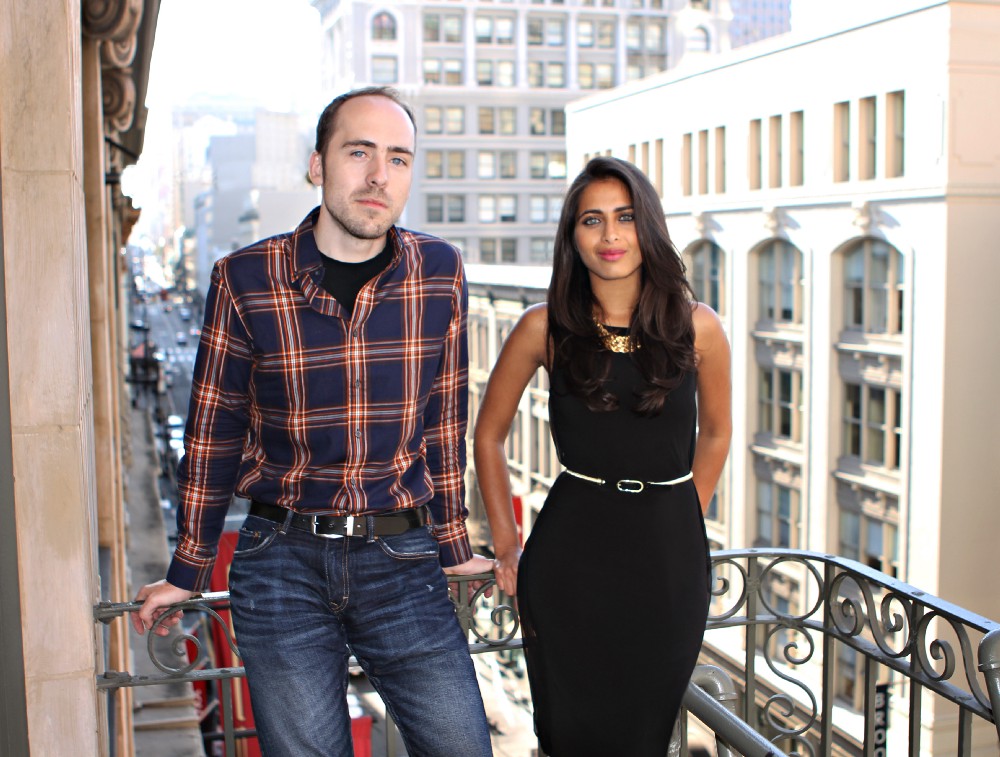 (Bashir and Peek CTO/co-founder Oskar Bruening)
"Big picture, the problems that we're solving are for the $110 billion tours and activities market," said Bashir. "We came in and essentially said, it's really hard to book these businesses because nobody knows what's available — let's help create an opportunity to do that."
In the world, there are countless businesses that provide tours, activities and experiences — think wine tours, zip lines, river rafting, cooking classes, etc. The problem arises when somebody tries to sort through everything, find a reputable business, and book their service. This takes a large amount of time (some would say 20 hours) and in the end, you aren't even guaranteed a great experience.
Peek.com is a marketplace where people could find/book these activities and experiences. Users looking to plan an ideal vacation can use Peek to quickly sort through available options, find reputable establishments, book them, and be on their way.
From the building of this platform came another idea. Many of the small/medium-sized businesses operating these tours lacked the necessary software tools to grow and highlight their business, pen and paper used in place of online booking accomodations. Peek debuted Peekpro.com to solve this need, back-end software tools specifically built for tour and activity operators to grow their business. Between Peek.com and Peekpro.com, both sides of the vacation equation were now being serviced.
"Our vision is to connect the world through experiences," said Bashir. "Our job is to help people spend their time doing things that fulfill them. There's a lot of data around how activities and purchasing experiences makes you happier than buying products. And yet when it comes to buying products, you can go online and buy products from hundreds of thousands of websites. When it comes to activities and experiences, there weren't great sources."
Since inception, Peek has raised nearly $25 million from a variety of investors including Eric Schmidt (former Google CEO), Jack Dorsey (Twitter co-founder), David Bonderman (TPG Capital founding partner), and Peter Flint (Trulia founder). Their software has gained critical acclaim from Time, The New York Times, and USA Today, with Bashir recognized as a tech up-and-comer by Forbes, Fast Company, Vanity Fair, Fortune, and EY. And as a company, they're growing.
Silicon Slopes
Ruzwana Bashir came to Silicon Slopes to grow a startup.
In 2016, Peek had experienced enough success that another location was warranted. They began examining options for a second office and after sifting through available areas, arrived at a destination.
"We got really excited about Utah and felt like it was a huge opportunity for us to come to a market which has a really talented core of people," said Bashir. "San Francisco is an amazing place for building technology, but it's not necessarily an amazing place for building out sales or customer-facing organizations. We decided we wanted to find a place where they were experts at that."
Here is a list of things Utahns are experts at: business, sales, outdoor activity, chocolate milk, dirty sodas, ice cream scooping techniques, things built with jello, minivan repair, food storage, white tennis shoes, The Holy War, and I'm pretty sure most of these were motivating factors in Peek's decision to open a Sandy-based office.
"It's very clear that there's an amazing, well-educated workforce in Utah that is becoming much more interested in tech," said Bashir. "So there is a burgeoning tech center that we could see and there were other companies we knew that were beginning to move here. For us as company, we wanted somewhere that had a lot of activities, where people were passionate about that. What I love about this area is how many people flock here because they are into outdoor activities and adventure."
Company-wide, Peek currently has 90 employees (with about 40 stationed in Silicon Slopes) and they're continuing to hire. Bashir envisions a future with Peek as a global company — built in Silicon Valley, refined in Silicon Slopes, expanded to the world stage. For a company that aims to connect the world through experiences, global scaling seems like a reasonable goal.
"Now we have a really incredible executive team that's been built over time, who are experienced and have amazing backgrounds building platforms similar to Peek," said Bashir. "It's been exciting to build out a team where I'm able to replace myself doing marketing or operations with people who are better than I would be, but just as passionate…We've grown about 20x in the last 2–3 years. We have tens of millions of dollars in bookings going through our platform every month. In order to allow that to continue to happen, we need to grow the talent we have."