As further proof that the "State of Silicon Slopes" has a burgeoning logistics, shipping, supply chain, and transportation ecosystem, Salt Lake area XPS Technologies has been purchased for $65 million in cash, with a possible backend earnout of up to $75 million more.
---
With basically zero media coverage in Utah before today, Cottonwood Heights-based XPS Technologies has been acquired for $65 million in an all-cash transaction by Descartes Systems Group (NASDAQ:DSGX).
According to the news release distributed during the first week of June, Waterloo, Ontario-based Descartes has also agreed to pay up to $75 million in additional performance-based earnout payments. Such payments, if any, will be made in 2024 and 2025.
XPS was formed in 2014 and describes itself as having
"the solutions you need to grow your business and succeed in this amazing market transition to eCommerce. Our solid service will ensure success for your business, whether you're an individual eCommerce distributor or a 3PL or enterprise logistics and parcel resellers." (sic)

At the time of its acquisition, XPS had three different product/service offerings:
Rock Solid, a white label Software-as-a-Service shipping platform customizable for agents, brokers, carrier resellers, and franchisors;
XPS Ship, a free multi-carrier SaaS app that seamlessly integrates with the most popular eCommerce and order management platforms; and
Zangerine, a subscription model automated inventory management SaaS platform for distributors and wholesalers.
On the shipping side of the equation, the XPS applications integrate with the expected suspects:
DHL,
FedEx,
United Parcel Service (UPS), and
The U.S. Postal Service (USPS).
But it's on the eCommerce side of the table where XPS really shines, with integration and support for over 35 online platforms and tools, including
Amazon,
BigCartel,
BigCommerce,
Bonanza,
Cin7,
Cloud Conversion,
Cratejoy,
CS.CART,
CSV File Integration,
eBay,
ECWID,
Etsy,
Fishbowl Inventory Expert,
FoxyCart,
Magento,
Magento 2,
Mirakl,
NetSuite,
OpenCart,
Oracle,
OsCommmerce,
PayPal,
PrestaShop,
ODBC Custom Integration,
RESTful APIs,
Ship 4 Shop,
Shopify,
Shopping Cart Elite,
Squarespace,
STEALS.com,
Volusion,
Walmart Marketplace,
Webhooks Integration,
Weebly,
Wix,
WooCommerce,
X-Cart, and
Zen Cart.
During the three-year span of 2018–2020, XPS grew 384%, enough growth to not only snag its owners an up to $140 million payday from Descartes, but also sufficient to land the company at No. 1,247 on the 2021 Inc. 5000 list.
Not bad.
[FYI: XPS was advised in the transaction by Capital Clarity.]
---
The Descartes Story
For its part, the Canada-based acquiror, Descartes, claims
"(we) deliver the industry's most complete offering of cloud-based logistics and supply chain management solutions."
As described by Wikipedia, 41-year-old Descartes formed the Global Logistics Network in 2003 as "an extensive electronic messaging system used by freight companies, manufacturers, distributors, retailers, customs brokers, government agencies, and other interested parties to exchange logistics and customs information."
How big is GLN? Large enough that it supported literally billions of messages last year alone.
With over 1,800 employees based on four continents, Descartes generates over $420 million in annual revenue by serving over 24,000 clients, organizations ranging in size from startups to global enterprises.
A significant portion of Descartes success has been its ability to acquire and integrate over 50 companies in North America, Europe, and Asia since 2006.
In my opinion, the following two quotes from the Descartes news release highlight the value it sees in acquiring XPS:
"We remain committed to serving the ecommerce market and we believe that scale matters. Combining with XPS adds ecommerce domain expertise, advanced parcel shipping technology and a community of more than 10,000 customers," said Andrew Roszko, EVP Commercial Operations at Descartes. "Many of today's small and medium ecommerce retailers will be the major enterprises of tomorrow, and our integrated ecommerce shipping and fulfillment solutions are designed to help these businesses through all phases of growth."
"XPS complements our significant recent investments in the ecommerce fulfillment and shipping space," said Edward J. Ryan, Descartes' CEO. "We welcome the XPS customers, employees and partners to the Descartes community and, together, look forward to helping the community manage the full lifecycle of domestic and international ecommerce shipments."
Interesting.
---
The Growing Logistics, Shipping, Supply Chain, and Transportation Ecosystem in the State of Silicon Slopes

By now, I suspect, it's pretty obvious to anyone paying attention that Utah has emerged as one of global centers of the Software-as-a-Service industry, with leaders in industries ranging from experience management (Qualtrics) to education (Pluralsight), and from finance (MX) to customer communications (Podium).
To be clear, that's just the tiniest smattering of the rapidly growing ranks of Utah-based SaaS firms serving clients across almost any industry imaginable.
In that regard, since I began researching, analyzing, and reporting on Utah's business community over 18 months ago, I have continued to be surprised by the growing number of companies I have discovered that fall into an interesting industry grouping that includes firms in logistics, shipping, supply chain, and transportation.
The first of these was a firm I had never heard of before: Salt Lake City-based Visible Supply Chain Management (Visible SCM).
Acquired last August by Copenhagen, Denmark-based Maersk for $838 million, Visible SCM had
Over 1,000 employees working at
Nine fulfillment centers across the U.S., where they
Moved over 200 million parcels annually, and
Produced $445 million in revenue in 2020.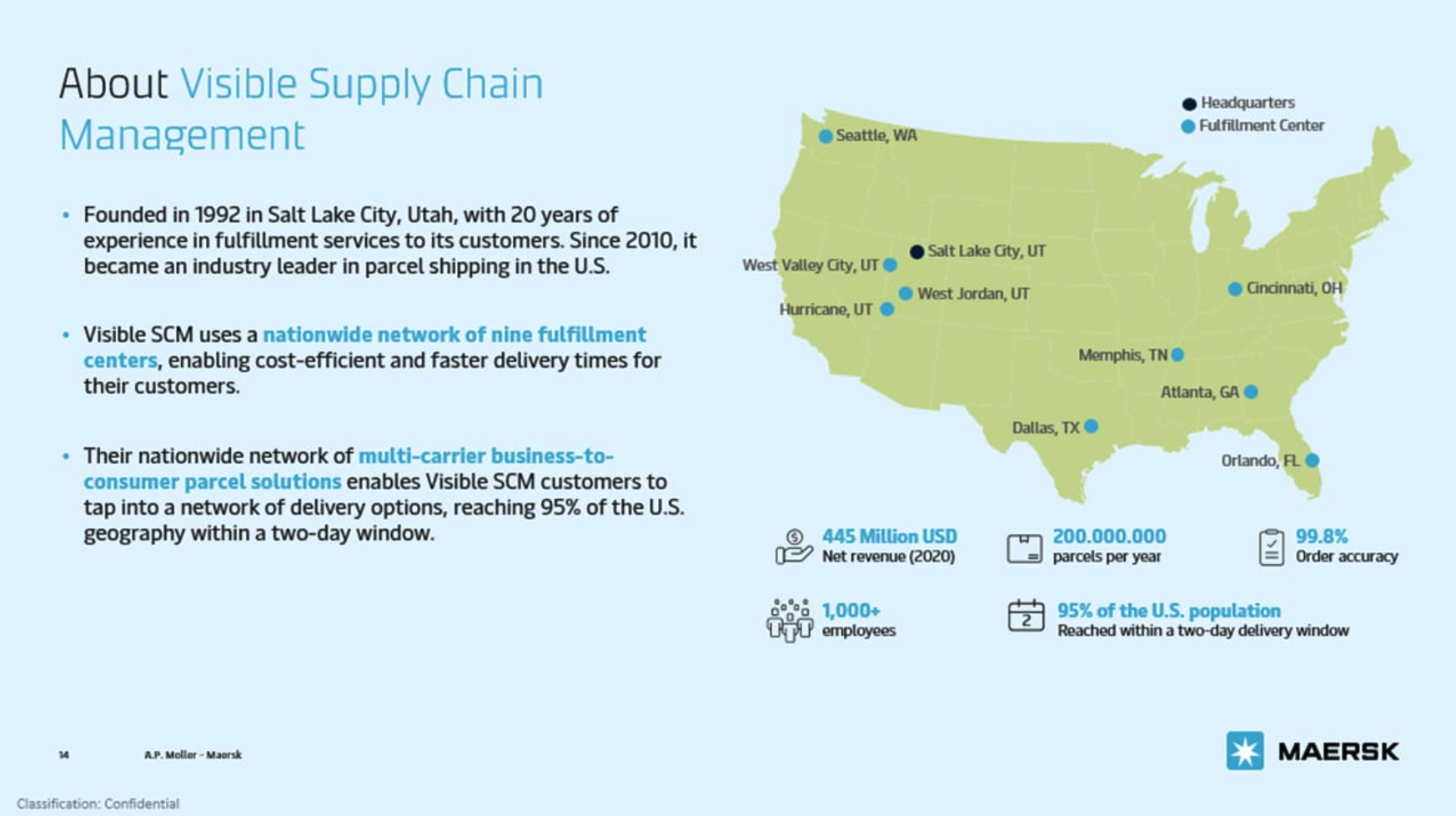 Another firm in Utah's emerging logistics environment that snagged my attention during the past year was Route when it announced in January it had landed a $200 million round of funding at a $1.25 billion valuation.
Lehi, Utah-based Route has seen pretty explosive growth during its relatively short, four year of life as it had
Landed over 11,000 partners, and
Tracked over 175 million packages,
as of the beginning of 2021.
And then a third example is St. George, Utah-based Zonos which I wrote about at the beginning of June in "Zonos: The 12-Year-Old St. George Tech Firm Remaking International Shipping."
As explained in that story, 12-year-old Zonos
"now has the software in place to enable shipments to/from some 200 countries and territories around the planet, essentially to any country not currently on an embargoed list with the U.S. government."
Zonos closed a $69 million round of Series A funding last fall, and announced in April a major contract to help support the logistics needs of the U.S. Postal Service.
The work of these three organizations is on top of things like
The recent opening of the upgraded Salt Lake International Airport,
Utah-based Breeze Airways starting flights to/from the state, and
Recent efforts to move the development of Inland Port forward in Salt Lake County.
My bottom line is this—I have now uncovered several dozen Utah-based organizations focused on meeting the logistics, shipping, supply chain, and transportation needs of clients everywhere.
Like Zonos.
Like Visible SCM/Maersk.
Like Route.
And yes, like XPS.
And to be honest, I suspect there are a lot more waiting to be discovered.